Watchdog FEC sidelined as elections roll
The Federal Election Commission has vacancies in four of six seats and it hasn't acted on a new ethics law.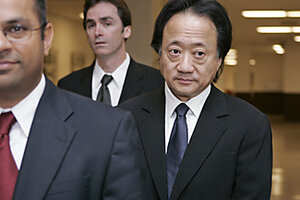 Paul Sakuma/AP/FILE
A record-spending primary season is in full swing, but America's elections watchdog is fresh out of bark and bite.
Four of the six seats on the Federal Election Commission are vacant, with nominations caught up in partisan gridlock in the US Senate. The FEC can still disclose data on elections, but without a quorum, it can't issue regulations and binding opinions or file lawsuits.
"Everyone is running around Iowa and New Hampshire, and no one noticed that the FEC closed for business last week," says Anthony Corrado, a campaign-finance expert at Colby College in Waterville, Maine.
In an election where spending is already on track to exceed $5 billion, even small ambiguities in the law can shift vast sums of money – and prospects for candidates.
Moreover, without FEC action, a new federal ethics law requiring the disclosure of so-called "bundled" contributions, may not take effect in time to influence the 2008 election cycle.
While federal law limits individuals to $2,300 in contributions to a specific campaign, it's not illegal for individuals to persuade friends and associates to also contribute and then take credit for the total. This bundle of contributions can enhance the political access of an individual donor.
---