For Clinton and McCain, a New Hampshire revival
Results in the Granite State mean frontrunners in both parties will continue to duke it out for the nomination.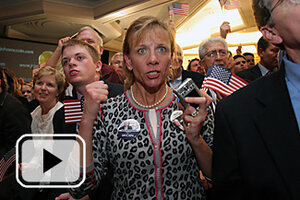 Nicole Hill
Voters in the New Hampshire primaries sent a message to the country Tuesday: The show's not over.
Sen. Hillary Rodham Clinton edged out Sen. Barack Obama with the help of women voters, roaring back from defeat in Iowa and denying Mr. Obama back-to-back wins that would have smoothed his path to the Democratic nomination.
In the Republican race, Sen. John McCain coasted to victory in a state that had endorsed his independence and straight-shooting style in the 2000 primary and did so again Tuesday. Massachusetts Gov. Mitt Romney was runner-up for the second time in a week in states he had staked his campaign on winning.
Senator Clinton's upset followed a third-place finish in Iowa and polls Sunday showing her as many as 10 percentage points behind Obama in New Hampshire. Reports circulated Tuesday of an imminent staff shake-up.
Analysts were at a loss to fully explain the turnaround but said she may have benefited from any number of factors: a strong get-out-the-vote drive by local unions, a teary moment on the campaign trail Monday, or new sympathy for her after a rough-and-tumble debate Saturday.
---