As Clinton and McCain rebound in N.H., races are wide open
On the Democratic side, a potentially historic clash lies ahead. For the GOP, Michigan is the next test.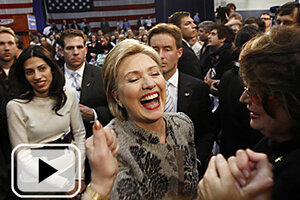 Carlos Barria/reuters
WASHINGTON; and CONCORD, N.H.
Hillary Rodham Clinton and John McCain are hardly kids, but their comebacks in the New Hampshire primary mean the race for the presidential nominations, in both parties, is wide open.
Senator Clinton defied the polls and edged out Sen. Barack Obama with the help of women voters, roaring back from defeat in Iowa and setting up an intraparty battle of historic proportions – pitting the first viable woman and African-American against each other for their party's nomination. Both well-funded and well-organized, Clinton and Senator Obama represent a clash between a seasoned, establishment-backed Washington insider and a youthful, charismatic outsider whose campaign has morphed into a movement.
In the Republican race, Senator McCain surged ahead of former Massachusetts Gov. Mitt Romney in a state that had endorsed his straight-shooting style in the 2000 primary. Left for politically dead just a few months ago, McCain now becomes a top contender for his party's nomination in a still-crowded GOP field.
---