In '08 Democratic battle, it's Obama's movement vs. Clinton's campaign
His candidacy works to inspire, while she appeals to reason and cites credentials.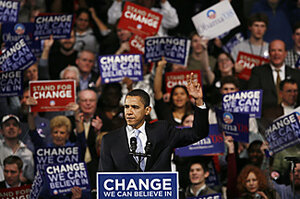 Jim Young/Reuters
With a booming baritone and a message of hope and change, Barack Obama is often described as a "phenomenon" and his presidential campaign as a "movement." Since announcing his candidacy last February, the junior senator from Illinois has routinely drawn crowds in the thousands. In the days before Tuesday's New Hampshire primary, people from all over New England, some with children in tow, came to catch a glimpse of the man who could be America's first black president.
Hillary Rodham Clinton, his top competitor for the Democratic nomination, is the product of a movement – the drive for women's equality – that has delivered her to this moment: the possibility of becoming America's first woman president. She doesn't try to compete with Mr. Obama on oratory. Instead, she is making an appeal to reason – that she too wants change, and unlike Obama, has the experience to deliver it. Hers is a more traditional, establishment-backed campaign, her supporters acknowledge.
Which model will prevail – the movement or the campaign – is anybody's guess. Each has the aura of a winner, having each won a nominating contest – Obama in Iowa, Senator Clinton in New Hampshire. And unlike former Vermont Gov. Howard Dean (D) four years ago, whose presidential campaign surged as a movement, fueled by young people and antiwar activists, and then fell apart, Obama has already shown that he can turn a movement into a viable presidential campaign.
---