In Michigan, three in tight G.O.P. race
The state's economic woes are the central focus for Romney, McCain, and Huckabee before Tuesday's primary.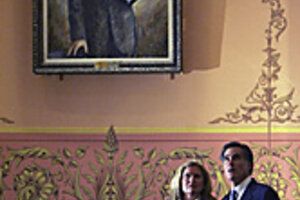 l.m. otero/ap
Grand Rapids and Battle Creek, Mich.
Just three days before Michigan's Republican primary, Van Siegling still can't make up his mind.
A Department of Defense worker who attended the US Marine Corps Command and Staff College, he admires Sen. John McCain's war position and military experience.
As someone concerned about Michigan's plummeting economy – he figures his home has lost $20,000 in value in less than two years – he's drawn to native Michigander Mitt Romney. He likes Mr. Romney's promise of using private-sector ideas to make government run more efficiently.
"I'm leaning toward McCain because of the military angle," says Mr. Siegling, a Kalamazoo resident. "But running government as a business? That would be true change as opposed to just talking about change."
The next key test in a wide-open GOP contest hinges upon people like Siegling and no clear favorite has emerged. Mr. Romney is a native son whose father was a popular three-term governor here in the 1960s.
---