Coup in the bayou: New Governor Jindal promises change in Louisiana
Inaugurated Monday, he promises to clean up corruption.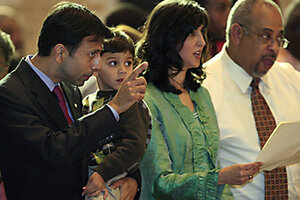 Tim Mueller/AP
Little is ordinary about Louisiana's new governor, Piyush "Bobby" Jindal. He's the nation's youngest governor, the first whose parents are from India, and his state's first nonwhite chief executive since Reconstruction. A convert from Hinduism to Catholicism, he likes fast food and rises early – like 3 a.m. – to lift weights.
But all that pales in comparison to the extraordinary task he's promised to undertake: cleaning up a state government widely considered one of the most corruption-prone in America. Perhaps equally extraordinary: Some political observers say he can do it. Governor Jindal was inaugurated here in Baton Rouge Monday amid the booms of a 19-cannon salute and a children's choir singing "The Crawdad Song."
"We've had this sort of political revolution before," says Wayne Parent, a political scientist at Louisiana State University here in Baton Rouge. "Louisiana is wellknown for dramatically throwing someone out and dramatically throwing other people in, but there's something different in Jindal – not in the person, but the situation." In a word, the aftermath of hurricane Katrina has shaken Louisiana politics to its core.
---