For election 08, youth voter turnout swells
Their numbers surged in the Iowa and New Hampshire contests. Will the trend continue?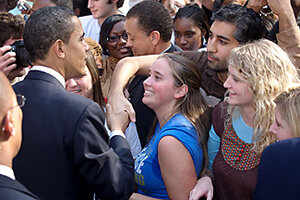 Richard Ellis/Getty Images
If politically active 20-somethings have their way, 2008 is going to be their year.
The "Millennials," as sociologists have dubbed them, have already shaken up the presidential primary races with their surprisingly large turnouts in the Iowa caucuses and the New Hampshire primary at 13 percent and 43 percent respectively.
Political analysts are watching to see whether that increase in youth turnout holds when the politicking shifts from the retail-style handshaking in smaller states to the wholesale media buys and tarmac touchdowns in larger ones on Super Tuesday.
That's Feb. 5, when more than 20 states will hold primaries. If more young people turn out then, it could be the cementing of a trend started in 2000 when youth turnout started ticking upward. If you believe young people themselves, it is the beginning of a new brand of less cynical political engagement in the future.
"Super Tuesday puts the trend of higher youth involvement to the test," says Donald Green, a political scientist at Yale University in New Haven, Conn. "It forces us to explain the high voter turn out as either in terms of voter mobilization [which is easier in small states] or because of enthusiasm inspired by the candidates."
Talk to young people, and they have another reason as well: optimism. While "Gen-Xers" are known for their cynical alienation, these Millennials are socially active, engaged in volunteerism and determined to make the world a better place.
"Something is going on, that era of irony is finally playing itself out," says Marc Morgenstern, executive director of Declare Yourself, a nonpartisan youth voter mobilization organization in Los Angeles. "Cynicism and irony can only go so far. Eventually the pendulum has to swing the other way and it becomes cool again to care about things."
---