Romney's decisive win in Michigan scrambles G.O.P. field
Now, the Republican presidential nomination battle shifts from the typical tack of achieving inevitability to one where candidates work to amass the most delegates.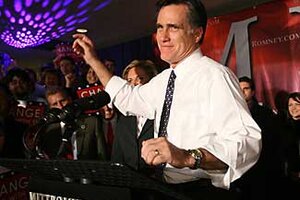 Mandi Wright/AP/Detroit Free Press
Mitt Romney scored a decisive victory in Michigan Tuesday night, beating out Sen. John McCain in a race many viewed as a must-win for Mr. Romney to remain viable for the Republican presidential nomination.
"Tonight is a victory of optimism over Washington-style pessimism," he told cheering supporters in his victory speech, continuing the Washington-outsider image he has cultivated in recent weeks.
It is Romney's first major win, and it leaves a wide-open Republican race even more murky, as the candidates head into South Carolina's primary on Saturday. Romney, Senator McCain, and former Arkansas Gov. Mike Huckabee each have one victory under their belt.
"The Republican party has gone from confusion to uncertainty," says Jack Pitney, a government professor at Claremont McKenna College in Claremont, Calif. "There's no clear front-runner, and the race is going to be very exciting for the next couple of weeks, at least."
---