Missing in 2008: a front-runner
Romney's Michigan win deepened GOP uncertainty before crucial upcoming contests.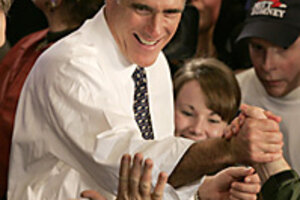 shannon stapleton/reuters
The most elusive commodity so far in the 2008 presidential sweepstakes is momentum. In both parties, the opening contests have been won by different candidates, creating lots of "comeback kids" but little ability to claim the mantle of front-runner.
Mitt Romney's decisive victory in the Michigan primary Tuesday may have been the most successful "do or die" performance of the season, to date. Having lost the first two major contests, Iowa and New Hampshire, the former Massachusetts governor almost certainly had to win his native state of Michigan to appear viable heading into Nevada and South Carolina (both this Saturday) and Florida (Jan. 29).
Now, the Republican field is murkier than ever. Not only are Iowa winner Mike Huckabee and New Hampshire winner John McCain still in the hunt, locked in stiff competition for South Carolina, Rudolph Giuliani also must still be considered viable. By saving his fire for the big-delegate states – first Florida, then the 22 Super Tuesday contests on Feb. 5 – the former New York mayor was counting on disarray in the early contests, and that has borne out.
---