With South Carolina win, McCain is front-runner again.
Loss is major setback for Huckabee. Romney remains contender with win in Nevada.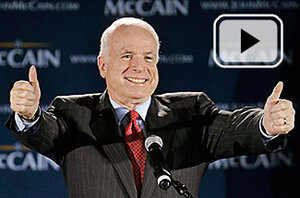 steven senne/AP
Sen. John McCain won the South Carolina primary Saturday, a pivotal victory in a conservative stronghold that makes him the man to beat as the race for the GOP nomination moves to Florida and a raft of other large states.
The victory is likely to mute questions about Senator McCain's support among traditional Republicans and conservatives, and comes eight years after his bitter defeat to George W. Bush here in 2000.
"You know, it took us a while," McCain quipped to jubilant supporters at a victory celebration in Charleston, S.C. "But what's eight years among friends?"
Analysts said the outcome in this deeply religious state is a major setback for former Arkansas Gov. Mike Huckabee, a former Baptist minister who has been unable to replicate his Jan. 3 victory in the Iowa caucuses. With all but a few precincts reporting, McCain won 33 percent of the vote here, and Mr. Huckabee, 30 percent. Former Tennessee Sen. Fred Thompson and former Massachusetts Gov. Mitt Romney were virtually tied for a distant third.
---