Next primaries tougher yet
Florida's Jan. 29 race is the first with all GOP hopefuls contending in full.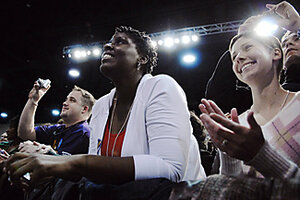 jonathan ernst/reuters
As the presidential nomination battles head into their next venues – Florida for the Republicans, South Carolina for the Democrats – candidates on both sides have much to prove.
And while neither contest will decide its party's nomination, both will provide clues.
In the GOP race, Florida's primary on Jan. 29 will be the first time all the candidates are competing in full. John McCain needs to show that he can win registered Republicans. So far, the Arizona senator has won two key primaries – New Hampshire and South Carolina – on the backs of independent voters. But in Florida and many of the 20-plus "Super Tuesday" contests on Feb. 5, the primaries are "closed" – registered Republicans only. If Senator McCain wins Florida, he will be the GOP front-runner, analysts say.
Mitt Romney, the former governor of Massachusetts, has now won three contests – Wyoming, Michigan, and Nevada – but only Michigan was competitive. Mr. Romney has yet to register in national polls as a top contender, but a win in Florida would catapult him into the upper ranks, analysts say. And his personal fortune frees him from the money challenge faced by McCain. The question for Romney is whether the message of economic optimism that played well in his native state, recession-hit Michigan, can win in Florida and beyond.
---