Republicans' Mike Duncan highlights polls unfavorable to Clinton
The chairman of the Republican National Committee defended the GOP's '08 prospects at Wednesday's Monitor-sponsored breakfast for reporters.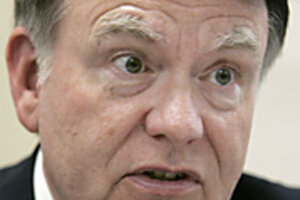 Danny Johnston/AP
Mike Duncan has one of the toughest jobs in politics.
As chairman of the Republican National Committee, Mr. Duncan is the leader of the party that controls the White House. Like others in that position in the past, he must unwaveringly defend the record of party and president.
So when Duncan surveys the political scene, he says, "I'm very pleased. I think we are going into '08 with good prospects." Duncan was the guest at Wednesday's Monitor-sponsored breakfast for reporters.
Other political experts don't share Duncan's sunny outlook. President Bush's former chief speechwriter, Michael Gerson, writes in the latest issue of Newsweek that "In early 2008, by nearly every measure, the Republican Party is in trouble."
The nonpartisan Capitol Hill newspaper Politico recently said the Republican Party suffers from "the funk of the foot soldiers." Among the symptoms Politico cited:
•Ambitious state and local Republicans are deciding this is not the year to run for office.
•Republican contributors are not opening their wallets as frequently as Democrats.
•Republicans are heading to the presidential primary polls in smaller numbers than in previous years.
Duncan, a banker from eastern Kentucky who became party chair in January 2007, counters, "I don't think there is a funk."
He added, "This whole area of fund-raising is one that I would point to and say that we are doing well and we will have the money to get our message out."
---