In State of the Union, Bush to begin framing legacy
Monday's address is expected to highlight improvements in Iraq, but not reforms for immigration or Social Security.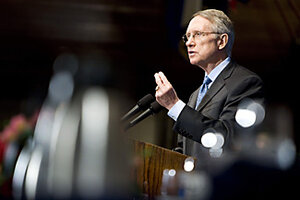 Joshua roberts/reuters
On Monday evening, President Bush will stand before a joint session of Congress and give a speech about the state of the Union – and perhaps about the state of his place in history, as well.
This doesn't mean that Mr. Bush's final State of the Union address will be a nostalgia-fest of retrospection. Bush, like his father before him, famously is averse to dwelling on the past.
But he's unlikely to unveil bold new initiatives, say experts, given his low approval ratings and the lack of time left in his term. At best Bush might push items already in the legislative pipeline, such as a revised No Child Left Behind education law, while claiming progress in Iraq and the war on terror – the most consequential events of his administration.
"Given his political situation, the task is to make the best case for his legacy rather than to set an ambitious agenda for his last year," says Thomas Mann, senior fellow in governance studies at the Brookings Institution, a Washington think tank.
Administration officials insist that Bush's speech will be focused on the future. Twelve months is enough time to get some things done in politics, and Bush has often expressed a desire to "sprint to the finish," said White House spokeswoman Dana Perino on Jan. 25.
Bush will highlight items of unfinished business that he believes should be priorities for the Democratic congressional leadership, said Ms. Perino.
---