In Miami's Little Havana, Giuliani makes his stand
On the eve of Tuesday's primary in Florida, the one-time national GOP front-runner is still running strong among Cuban-Americans, who represent 10 to 12 percent of the state's GOP electorate.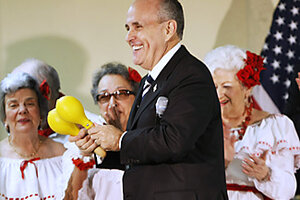 gerald herbert/ap
Paying homage to Miami's Cuban-Americans – and knocking back Cuban coffee at Café Versailles in the heart of the city's Little Havana neighborhood – is a staple of any political campaign in south Florida.
But for Rudolph Giuliani, the one-time national front-runner for the Republican presidential nomination, Cuban-Americans represent his last redoubt. As his support fades among the rest of the GOP electorate in Florida on the eve of Tuesday's primary, the former New York mayor is still the toast of Little Havana.
In an appearance Friday at a neighborhood senior center, Mr. Giuliani basked in the adoration of older Cuban-Americans, who called out "Rudy, Rudy!" as the former mayor praised their love of freedom in the face of a "vicious, murderous, communist dictatorship."
"You brought with you what's inside your soul, and no tyrant, no dictator, no bully can take that away from you," Giuliani said, standing amid the Cuban-American senior citizens who had entertained the crowd with dancing before his arrival. "The Cuban-American story shows that freedom prevails over oppression."
Cuban-Americans represent 10 to 12 percent of the GOP electorate in Florida, and "that's the one group he [Giuliani] is still carrying," says Brad Coker, managing director of Mason-Dixon Polling.
Giuliani leads among Florida's Hispanic Republicans (who are overwhelmingly Cuban and overwhelmingly located in Miami-Dade County) with 52 percent of the vote, but is trailing overall in Florida with just 18 percent of GOP primary voters, according to the latest Mason-Dixon poll.
---