After South Carolina: Can Obama capture a wider swath of voters?
The black vote was key to his decisive win Saturday. To be competitive in the Feb. 5 sweepstakes, he'll need a broader coalition of independents, young people, and affluent whites, analysts say.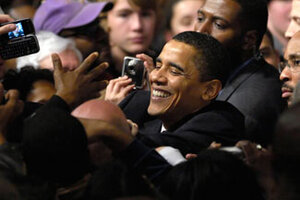 Jonathan Ernst/Reuters
With his victory in the South Carolina primary Saturday, Sen. Barack Obama offered convincing proof of his ability to appeal to black voters. But to stay on course for the Democratic nomination when 22 states vote on Feb. 5, analysts say, Senator Obama will need to reach further and wider.
African-Americans are a big part of the Democratic vote in Georgia, Alabama, and a few other Super Tuesday states. But experts say Obama's fortunes on Feb. 5 will hinge on the groups of voters responsible for his only other win, in Iowa: independents, college students, and well-educated and affluent whites.
Also critical, experts say, will be inland states like Kansas, Colorado, and Minnesota, where many voters are wary of candidates, like Sen. Hillary Rodham Clinton, who are seen as too partisan. Obama has already picked up a string of heartland endorsements, including those of Sens. Ben Nelson of Nebraska and Claire McCaskill of Missouri.
---