How to untangle the politics of Super Tuesday primaries
Clinton, Obama, McCain and Romney compete for 42 percent of all delegates.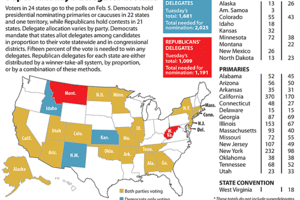 SOURCE: National Journal/Rich Clabaugh–STAFF
For the past year, a large field of presidential candidates has lavished attention on just a few early primary and caucus states. Suddenly, on the eve of the biggest primary day in United States history, the calculus is reversed: A handful of candidates are competing in almost two dozen states, spread across the country.
The stakes going into Feb. 5, or "Tsunami Tuesday," could not be higher. In each party, more than 80 percent of the total delegates needed to secure the nomination are up for grabs. And the system for allocating delegates is even more complicated than that of the Electoral College, with delegates awarded mostly by congressional district. An important exception is the eight Republican contests that are winner-take-all by state.
Never before have the experts on each campaign who know the rules of delegate allocation in every state been so important. The scramble for delegates is on, district by district.
Democratic Illinois Sen. Barack Obama, for example, does not expect to win New York. "But do we expect to pick up delegates because we have a strong operation and a grass-roots following in places like Brooklyn and Harlem and the Bronx? Absolutely," says campaign spokeswoman Jen Psaki.
Because none of the 22 Democratic states (and American Samoa) or their congressional districts are winner take all, both candidates have reason to compete in every state. District-level delegates are allocated proportionally to the outcome of the vote or caucus result in a congressional district, as long as a candidate reaches a 15 percent threshold, according to national party rules. Statewide delegates are also allocated proportionally.
---