Latino vote critical for Clinton on Super Tuesday
With stepped up campaigning, Obama seeks to make inroads into Clinton's Hispanic support.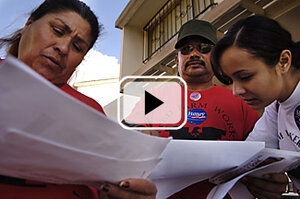 Andy Nelson - staff
Their script isn't necessary. Alberto Murillo sees the red and black shirts and the blue signs and knows they are United Farm Workers members canvassing for Sen. Hillary Rodham Clinton. In moments, he takes a "Hillary for President" sign and offers his phone number.
Senator Clinton visited this city days earlier to accept the UFW's endorsement. The union-owned radio station airs her ads during breaks in the ranchera music pulsing in the vineyards and in taquerias here.
Señora Clinton is known.
"Latinos remember how well the economy was during Bill Clinton's time ... and having her and the backup support of her husband running this country, it only means more opportunity and better times for the people – especially Latinos," says Mr. Murillo, a substitute teacher.
Clinton's 15-year head start among Latinos has left Sen. Barack Obama scrambling to catch up since the Nevada caucus pointed to a Hispanic predilection for the former first lady. Experts say he needs to narrow that lead to do well in key primaries Tuesday and beyond.
---