For Super Tuesday, McCain's edge is substantial
McCain leads by 19 points nationally, but Romney could benefit from anti-McCain votes.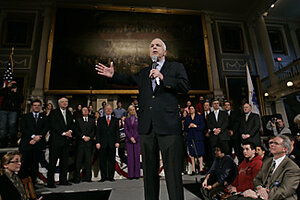 Charles Krupa/AP
For the past year, pundits have been warning: Don't pay attention to the national polls. They are more a gauge of name recognition than considered choices by voters. Remember Rudolph Giuliani, the "likely Republican nominee?"
Now that the biggest Super Tuesday in US history has arrived, with almost two dozen states holding primaries or caucuses, the national polls are truly meaningful, analysts say. Voters are engaged across the country, not just in the few states that had early nominating contests. And Republicans appear set to all but anoint Sen. John McCain of Arizona as their choice for November.
The latest Realclearpolitics.com average of national polls shows Senator McCain towering over former Massachusetts Gov. Mitt Romney by 19 points – 43 percent to 24 percent, with former Arkansas Gov. Mike Huckabee at 18 percent and Rep. Ron Paul of Texas at 6.
"If past Super Tuesdays are any indication, it's going to be very difficult for Romney to dig himself out of the hole he's in at the moment," says William Mayer, a political scientist at Northeastern University in Boston.
Romney comeback still possible
---