Super Tuesday unlikely to settle Obama-Clinton race
The former first lady's imposing national lead among Democratic voters faded leading up to the 22-state sweepstakes.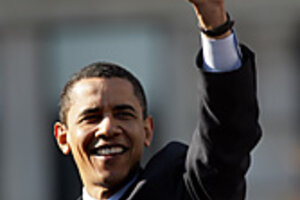 Suchat Pederson/The News Journal/AP
A nail-biter of a fight for the Democratic presidential nomination enters its biggest day Tuesday, with voters in 22 states and American Samoa casting ballots in a historymaking race.
Polls released over the weekend show Sen. Hillary Rodham Clinton, long the national Democratic front-runner, losing ground. In just the past few days, Sen. Barack Obama has pulled even in key states long seen as Clinton country, among them California, New Jersey, and Missouri.
The tightness of the race increases the odds that the battle for the nomination will stretch past Tuesday into the more than a dozen states voting in mid-February and early March.
Still, it is hard to overstate the significance of the voting Tuesday: About 83 percent of delegates needed for the nomination are up for grabs. With the withdrawal last week of former Sen. John Edwards, Super Tuesday offers the first one-on-one showdown between the front-runners.
Recent days have seen the lead candidates and their surrogates in a frantic coast-to-coast hunt for votes. With her large lead in delegate-rich California gone as of the weekend, according to several polls, Senator Clinton dispatched her husband, President Bill Clinton, there for two days while she traveled to Missouri, Minnesota, Connecticut, and Massachusetts.
---