First-time voter mobilizes fellow immigrants for New York primary
In the city, some 250,000 to 300,000 immigrants-turned-US citizens will vote Tuesday.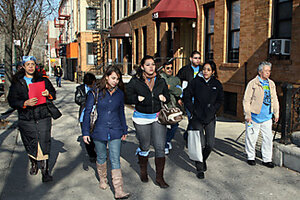 Rick Maiman/AP
Maria Elena Betancur left her native Colombia for the United States 14 years ago wanting a better life for herself and her young daughter. Today she owns a juice bar in Queens, and her daughter is attending college. On Tuesday, she will achieve another milestone.
"I will vote for the first time," said Ms. Betancur, who became a US citizen three years ago. "I came to this country many years ago with my heart in my hands. It makes me very happy to know that I can, for the first time ... represent my own voice."
She's also working to get other immigrants-turned-US citizens to cast their ballots. Concerned with the poor economy, lack of access to affordable healthcare, and immigration-reform legislation, she joined about 30 volunteers, Betancur canvassed her primarily low-income, minority neighborhood reminding registered voters to get out and vote on Tuesday. She's part of a voter-mobilization push by the local branch of Make the Road New York, a Latino immigrant advocacy group.
"We do it because our community needs to build power," said Ana Maria Archila, co-executive director of Make the Road New York.
---