Californians give a nod to Indian gambling increase
On Super Tuesday, they approved measures to expand slot machines. But they declined to amend term limits for state lawmakers.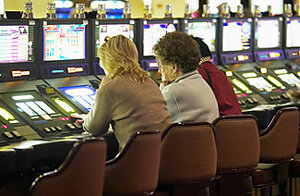 Robert Harbison/The Christian Science Monitor/File
Californians marked their ballots not only for their favorite presidential candidates Tuesday, but they also voted to allow Indian tribes to expand gambling in the state – a reversal of public sentiment toward that idea just a few months ago.
Voter approval of four citizen initiatives to expand Indian gambling operations came after months of TV ad wars and will result in the addition of enough new slot machines in California to equal the number at Las Vegas's top 10 casinos.
On another ballot measure calling for an adjustment in term limits for elected politicians, Californians refused to budge from their long-standing position that state legislators, in particular, need to be on a short leash. They rejected it 51 to 49 percent.
The huge spending on ads – $150 million on each side in the gambling propositions and another $7 million on the term-limits measure – showed the power of the purse to influence elections.
"The ballot-proposition landscape is increasingly dominated by interest groups with huge economic interests at stake," says John Matsusaka, president of the Initiative and Referendum Institute at the University of Southern California here. "This election, the gambling industry, primarily a handful of tribes, ... virtually monopolized the airwaves in the last couple of weeks."
Change in term limits rejected
On the term-limit measure, however, the nod went to the spending underdog.
---