Congress and the economy: After stimulus bill, what next?
Congress is likely to try other economic boosts. The GOP wants to extend the Bush tax cuts set to expire in 2010.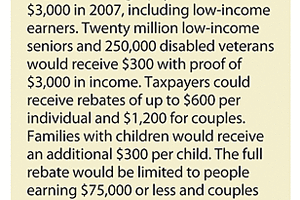 SOURCE: US Congress/AP
The prospect of a sputtering economy in an election year all but ensured the swift passage of a $152 billion stimulus plan in Congress last week.
But the plan is just the start of a legislative session that is shifting focus from the Iraq war to America's economic woes.
In the rush to complete a stimulus bill that would be timely, lawmakers dropped proposals ranging from extending unemployment insurance to beefing up alternative tax credits. All are grist for the debate over 2009 fiscal spending or add-ons to other legislation this year.
"This [stimulus bill] appears to be what is possible now, but there is more to be done. Almost all these issues will be revisited – and in the not-too-distant future," says Sen. Kent Conrad (D) of North Dakota, who chairs the Senate Budget Committee.
Other proposals that didn't survive included targeting relief to homeowners caught up in the home foreclosure crisis or contending with soaring home heating costs this winter.
Even before the White House signing ceremony, expected this week, the Internal Revenue Service is preparing to send rebate checks to some 130 million families.
Along with these checks, the plan aims to increase investment tax breaks, and to expand refinancing opportunities in the housing market. It passed the Senate by a vote of 81 to 16 Thursday, and, just hours later, by a House vote of 380 to 34.
---