Obama Sweeps 3 States, Huckabee Takes 2
The Illinois senator narrowed the delegate gap with Sen. Hillary Clinton.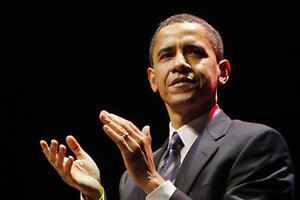 Carlos Barria/REUTERS
Sen. Barack Obama swept the Louisiana primary and caucuses in Nebraska and Washington state Saturday night, slicing into Sen. Hillary Rodham Clinton's slender delegate lead in their historic race for the Democratic presidential nomination.
The Illinois senator also won caucuses in the Virgin Islands, completing his best night of the campaign.
"Today, voters from the West Coast to the Gulf Coast to the heart of America stood up to say 'yes we can'" Obama told a cheering audience of Democrats at a party dinner in Richmond, Va.
He jabbed simultaneously at Clinton and Arizona Sen. John McCain, saying the election was a choice between debating the Republican nominee-in-waiting "about who has the most experience in Washington, or debating him about who's most likely to change Washington. Because that's a debate we can win."
Clinton preceded Obama to the podium. She did not refer to the night's voting, instead turning against McCain. "We have tried it President Bush's way," she said, "and now the Republicans have chosen more of the same."
---