Potomac primaries: Obama holds momentum
Clinton's recovery plan counts on the big-state contests on March 4.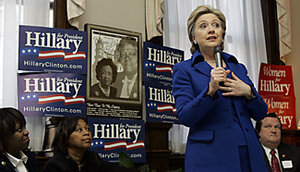 Carolyn Kaster/AP
Barack Obama's sweep of five caucuses last weekend, all by wide margins, hands the Illinois senator clear momentum heading into Tuesday's Potomac primary contests.
And there may be no relief in sight for his rival for the Democratic presidential nomination, Hillary Rodham Clinton, until March 4, Super Tuesday Junior. Then, the two face off in two big-delegate states – Texas and Ohio – plus Vermont and Rhode Island.
Senator Obama is expected to win Feb. 12 in Maryland, Virginia, and the District of Columbia, where the demographics work to his advantage – large black populations and sizable pockets of white-collar voters. The Clinton camp is playing down its chances there, as well as in the Feb. 19 contests in Wisconsin and Hawaii.
Aside from Texas and Ohio, where Senator Clinton is strong with the big Hispanic and blue-collar populations, the last fire wall in her "big state" strategy is Pennsylvania, which votes April 22. The question, though, is how momentum-proof her campaign is.
---