Republicans, Democrats jockey on earmark reform
House Democrats consider an ethics board, and Republicans adopt reform standards.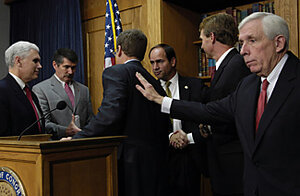 Andy Nelson – staff/file
It's shaping up to be a lean year for pork-barrel spending on Capitol Hill, as both congressional and presidential earmarks face new scrutiny in an election year.
Delivering the bacon to constituents back home used to be a net gain for politicians, but it's emerging as a key theme in campaign ads that attack incumbents for waste or corruption. Now, lawmakers on both sides of the aisle are grappling with how far to push curbs on the practice in the spending cycle for fiscal year 2009 and beyond.
House Republicans opened a new front in the war on earmarks last week when they proposed a moratorium on them, and then forced a floor vote on it. The measure, which also called for a bipartisan select committee to overhaul the process, failed 204 to 196, with all but seven Democrats voting in opposition. "We will keep looking for opportunities to get them on the record on this issue, but it falls to House Democrats to decide whether to join us in this reform," says Michael Steel, a spokesman for Republican leader John Boehner.
Democrats note that they have already adopted earmark reforms, which include cutting the number of earmarks in half in the last spending cycle and requiring more transparency. "Earmarking got out of control under the Republicans, and President Bush didn't veto a single one. For them to all of a sudden claim earmark reform is a joke," says Brendan Daly, a spokesman for Speaker Nancy Pelosi.
---