Clemens denies HGH use before Congress; McNamee repeats accusations
Roger Clemens and his ex-trainer stick to different stories, amid withering questioning on Hill.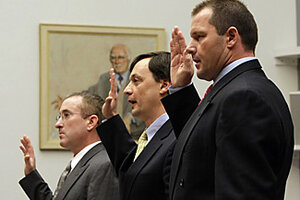 Pablo Martinez Monsivais/AP
On the baseball field one team wins, and another loses.
But in the House Oversight Committee's hearing Wednesday into allegations that pitcher Roger Clemens used performance-enhancing drugs, no winner immediately seemed apparent. Both Mr. Clemens and his accuser, former trainer Brian McNamee, suffered withering attacks on their credibility by committee members.
"It's impossible to believe this is a simple misunderstanding," said panel chairman Rep. Henry Waxman (D) of California in his opening statement. "Someone is not telling the truth."
Legal experts noted that Mr. Clemens is putting himself in legal jeopardy by testifying before Congress, if he is less than completely truthful. But to not appear would be to receive a blow in the court of public opinion.
"Clemens may have decided that it is worse for him to lose [face], so he will stick to his story and attempt to save face no matter the consequences," says Jeffrey Standen, a sports law expert and professor at the Willamette University College of Law in Salem Ore., in an e-mail response to a reporter's inquiry.
Of course, it is possible that Clemens is telling the full truth. In his public testimony, he repeated his vehement denials that he had ever used either steroids or human growth hormone (HGH).
---