McCain still fighting for conservative GOP support
A party divided over his candidacy will make a victory in the general election difficult, especially if McCain faces Obama.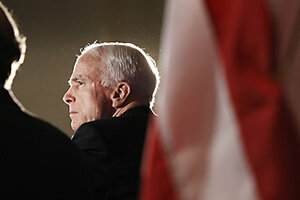 Gerald Herbert/AP
Now Rush Limbaugh says he's doing Sen. John McCain a favor. By crashing down hard on the likely Republican presidential nominee for not being far enough to the right, the conservative talk-radio host maintains he is making Senator McCain more competitive among Independents and moderates.
There may be some truth to that, analysts say, but in the end, winning over conservatives remains central to McCain's ability to win in November. If the base of the GOP isn't enthusiastic about its nominee, its foot soldiers won't work for his campaign and may not be motivated enough to vote in November. That could be so particularly if Sen. Hillary Clinton, the ultimate unifier of Republicans, is not the Democratic nominee.
But in a general election that pits McCain against Sen. Barack Obama, who draws major support from Independents and even some Republicans, McCain will have to satisfy the conservative base and remain competitive with Senator Obama among Independents, who represent one-third of the overall electorate.
This week, McCain won all three GOP primaries by decent margins, but the exit polls in Virginia and Maryland demonstrated his weak spots. In both states, McCain lost to former Arkansas Gov. Mike Huckabee among voters who self-identify as "very conservative." McCain can't win the presidency without winning Virginia. And there, where 31 percent of GOP voters are "very conservative," Mr. Huckabee beat McCain 65 percent to 25 percent.
Republican analysts say it's too soon to suggest that conservatives may not turn out for McCain in November, and that once both parties have presumptive nominees, issue differences will be evident, and Republicans will spring to life.
---