Will Wisconsin primary build Obama streak?
Clinton needs a Dairy State win to prevent him from winning nine primaries in a row.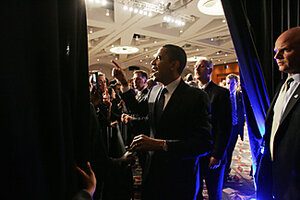 Rick Bowmer/AP
Kenosha and Milwaukee, Wis.,
According to conventional wisdom, Wisconsin should be Clinton country.
It's full of blue-collar voters who have been the stalwarts of Sen. Hillary Rodham Clinton's campaign for the Democratic presidential nomination and the black vote, which has been so strong for rival Sen. Barack Obama, is relatively minuscule here.
Yet Senator Clinton has cast herself as the underdog and, right now, signs point to a victory for Senator Obama in the state's Tuesday primary.
Observers are watching closely to see if he can not only fuel the perception of an Obama juggernaut by heading into the crucial Ohio and Texas primaries with a 10-0 winning streak, but also if he can continue to make inroads into some of Clinton's core supporters, including women and senior citizens.
"If she gets blown out, it would put her in a very weak position for the nomination," says Darrell West, a political science professor at Brown University in Providence, RI. "Wisconsin is a state where she should run well, so everybody will be watching to see if she can actually pull it off."
Given that importance and polls that have tended to show only a slight Obama lead, it's surprised some observers that Clinton has spent so little time in the state. While Obama campaigned here to packed crowds for four days last week, Clinton didn't put in an appearance until Saturday afternoon.
---