Nader's candidacy gets some cheers, but more groans
Many see it as folly for him to enter the presidential race one more time.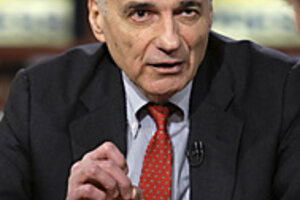 Alex Wong/Meet the Press/Reuters
Jon Hunt is an unapologetic supporter of Ralph Nader.
The young social activist organized for the corporate raider in North Carolina in 2000 and voted for him as a write-in candidate in 2004.
This November, Mr. Hunt is 99 percent sure he'll vote for him again. "I don't see myself voting for the Democrat or the Republican," says Hunt, who now lives in Virginia. "Nader's views are more in line with mine than any other candidate – the idea that there's excess corporate control that needs to be reined in."
Mr. Nader's announcement over the weekend that he's throwing his hat in the presidential ring again elicited groans from Democrats, grins from some Republicans, and a general sense of dismay among many political pundits. But the Naderites like Hunt are adamant that it's important to send a message about the corporate corruption of the political system – regardless of the political cost to one party or the other.
Even with such strong views, however, the number of Nader supporters has been dwindling, and few analysts believe they'll have much impact on the 2008 race. Nader got 2.7 percent of the vote in 2000, the analysts note, and only 0.37 percent in 2004 – less than half a percent.
"It would take a real fluke for him to make any difference this time around," says Larry Sabato, a political analyst at the University of Virginia in Charlottesville. "Remember, there could be a conservative independent – maybe more than one. Who knows?"
---