Will U.S. become world's nuclear-waste dump?
Critics say a plan to import up to 20,000 tons of low-level waste from Italy, the biggest import ever, could lead to even larger flows.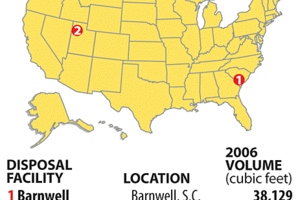 SOURCE: US Department of Energy/Rich Clabaugh–STAFF
The federal government is weighing a Utah company's request to import large amounts of low-level radioactive waste from Italy – a step critics say could lead the United States to become a nuclear garbage dump for the world.
If approved, the company would ship up to 20,000 tons of metal piping, sludge, wood, contaminated clothing, and other mildly radioactive material from Italian nuclear-power plants to Tennessee, process most of it, then dispose of the remainder in Utah. It would be by far America's largest import of nuclear waste.
The proposal, which entered a 30-day public-comment period on Feb. 11, is gathering opposition from environmentalists, regulators, and congressmen. It would not only pave the way for more such imports, critics say, but also give nations less incentive to take care of their own nuclear waste.
"If this massive quantity from Italy is accepted, it just blows the doors wide open for nuclear waste to come in from all over the world," says Tom Clements, Southeast nuclear campaign coordinator for Friends of the Earth, an environmental group in Washington. "The NRC [Nuclear Regulatory Commission] has an obligation to deal with the waste generated in this country first and not accept foreign waste that fills up existing sites."
---