E-Verify: worker status with a click of a mouse
Arizona law requires employers to use federal database to determine employee eligibility.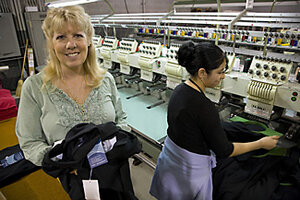 Robert Harbison / special to the christian science monitor
US immigration officials paid a surprise visit about 15 years ago to Anna Johnson's screen-printing and embroidery shop here.
Though she had carefully checked the papers employees provided when she had hired them, Ms. Johnson recounts, some IDs turned out to be fakes. She lost 28 employees – more than half her workforce – in one day. The loss, she says, cost her business hundreds of thousands of dollars.
Today, she is thrilled to be using the federal E-Verify program, a Web-based system that combines databases of US Citizenship and Immigration Services (USCIS) and the Social Security Administration so that employers can electronically verify the employment eligibility of newly hired employees. She is among some 20,200 Arizona employers now turning to the program in compliance with a new state mandate: Use E-Verify to weed out undocumented workers or face losing your business license if caught "knowingly" hiring them.
Judging from the anecdotal experience of several employers here, the program is working as intended. E-Verify works pretty smoothly, they say, and they like having the US government verify employees' eligibility rather than trying to determine for themselves whether documents provided are legitimate. They also note that fewer undocumented workers are applying for jobs here, as more Arizona employers start using E-Verify.
---