Comic 'news' a force in '08 campaign
How the media coverage has shaped this presidential election cycle.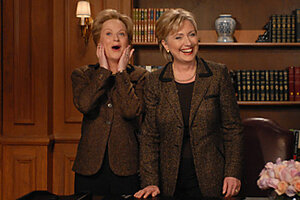 dana edelson/nbc/ap
Barack Obama seemed truly disappointed. On his campaign plane this week he told reporters, "I didn't expect that you guys would bite on that."
"That" refers to weeks of complaints by Sen. Hillary Rodham Clinton's campaign that the media were giving the Illinois senator a fairly free ride.
In fact, the media didn't "bite" right away. But after two "Saturday Night Live" skits satirizing the press corps as fawning over Mr. Obama – even ensuring that the actor playing him was comfortable during a debate – a raft of not-so-favorable headlines surfaced about the Illinois senator.
The relationship between the press and the politicians it covers inevitably becomes an issue in every campaign. But the shift in the news tone and coverage following the SNL Democratic debate skit points to how powerful the faux, comic news is becoming as a media critic and political force. That's particularly so because the expansion of broadband Internet now allows most Americans to replay almost any video clip they want.
"The least you can say is that Saturday Night Live's timing was exquisite – that it raised an issue that had been percolating out there," says Mark Jurkowitz of the Project for Excellence in Journalism (PEJ), which monitors press coverage of the campaign. "By any objective measure of press coverage, it did change and fairly abruptly."
---
Follow Stories Like This
Get the Monitor stories you care about delivered to your inbox.