Obama struggles to stay above fray
In striking back harder against Clinton, is he undercutting his message?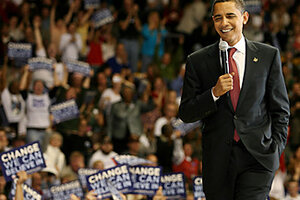 andy carpenean/laramie boomerang/ap
Barack Obama has cast himself as the candidate of hope, an idealist with no patience for mudslinging and division.
So as Hillary Rodham Clinton throws harder punches – a strategy that analysts say helped her win the Ohio and Texas primaries a week ago – how hard can he hit back without undercutting his message of uplift?
The question has come into high relief over the past week as Senator Obama – who is expected to win the Mississippi primary Tuesday but faces a stiff challenge next month in Pennsylvania – pushes back against a fusillade of criticism from the Clinton campaign.
Since his losses March 4 in Ohio, Texas, and Rhode Island, Obama and his aides have questioned Senator Clinton's claim that she has been "fully vetted," called for her to release her White House papers and latest tax returns, and suggested that her assertions of overseas policy experience were exaggerated.
"What exactly is this foreign experience that she's claiming?" Obama told reporters on his campaign plane last week, alluding to Clinton's "red phone" TV ad questioning Obama's readiness for an international crisis. "I know she talks about visiting 80 countries. It is not clear, was she negotiating treaties or agreements, or was she handling crises during this period of time? My sense is the answer's no."
---