N.Y. Governor Spitzer linked to high-end prostitution ring
Calls for his resignation mount, after the ethics crusader said he failed to live up to his own standards.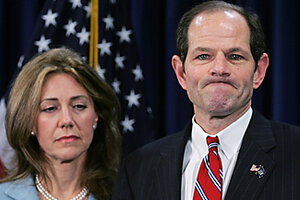 Shannon Stapleton/Reuters
New York Gov. Eliot Spitzer (D), once known as the "sheriff of Wall Street," spent much of his career prosecuting corrupt corporate executives. Now, reports that the first-term governor was a customer of a prostitution ring are prompting calls for his resignation.
In a public apology Monday afternoon, the governor sought to portray his actions, which he did not specify, as "a private matter." In a terse statement, Mr. Sptizer apologized to his family and to the public, "whom I promised better."
It's not known whether Spitzer will be charged in the federal investigation, but even if not, his long history of morally righteous statements is prompting speculation that he will be forced to step down. The reason, say political analysts, is that the public, which forgives many political sins, abhors hypocrisy.
"He spent his career being the scourge of inappropriate behavior, both public and private. Now he's lost all moral authority," says Douglas Muzzio, a political analyst at Baruch College in New York City. "His ability to govern has been shattered."
Spitzer's troubles became public Monday, after The New York Times reported on its website that he told high-level aides he'd been involved in a prostitution ring. He appeared in mid-afternoon to read a 10-sentence statement, with his wife, Silda Wall Spitzer, by his side.
---