After Spitzer: Paterson brings political acumen to New York politics
Set to become governor Monday, the politician is known for his drive and affability.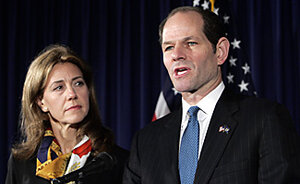 stephen chernin/AP
The man in line to be New York's next governor is, in many ways, the accidental governor.
And as David Paterson has done all his life, the legally blind African-American is counting on people to underestimate him.
He will be sworn in Monday, catapulted into the governor's chair after a sex scandal forced Gov. Eliot Spitzer to announce on Wednesday that he will resign.
Governor Spitzer rose to national prominence as the scourge of corrupt corporations but was forced from office amid allegations that he had been a longtime client of an international prostitution ring. In announcing his resignation, Spitzer again apologized to his family and the public.
"I'm deeply sorry I did not live up to what was expected of me," Spitzer said in a brief statement Wednesday morning. "To every New Yorker and to all of those who believed in what I tried to stand for, I sincerely apologize."
Spitzer's resignation will become effective on Monday. He told reporters that Lieutenant Governor Paterson had asked for that additional time to allow for an orderly transition. As Spitzer ended his political life, he also made it clear he did not intend to disappear from public life.
"As human beings, our greatest glory consists not in never falling but in rising every time we fall," he said. "As I leave public life I will do first and foremost what is needed to heal myself and my family and then I will try once again, outside of politics, to serve the common good."
---