Obama speech opens up race dialogue
Will it stand alongside the great speeches in US history?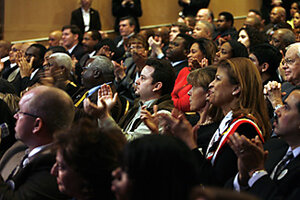 tim shaffer/reuters
Martin Luther King Jr.'s "I have a dream" speech. John F. Kennedy's Houston Ministerial Association address. And… Barack Obama's race speech?
Several students of political rhetoric suggest Senator Obama's moving speech in Philadelphia Tuesday could stand with some of the great speeches in American history.
True, say some, the Democratic presidential candidate was forced into giving a speech that would explain his relationship to the Rev. Jeremiah Wright Jr., the outspoken minister of Obama's church, known for some antiwhite and anti-American sermons.
While argument continues over whether Obama's explanation was sufficient, his speech did seem to achieve this: It has sparked a conversation about race relations, one of the frankest Americans have had since the civil rights era.
"It was as thoughtful as King's 'Letter from Birmingham Jail,' with the added dimension that it was in a political context, in which [Obama] showed courage rather than merely doing the safe denunciation," says Walter Isaacson, president of the Aspen Institute and biographer of several American historical figures. "He wrestled with the most important issue we have faced throughout our history, and he did it in a way that wasn't politically calculating, but was intensely personal as well as insightful."
---