Clinton's White House schedules revealing, not definitive
The 11,000 pages released last week shed little light on her readiness to be president.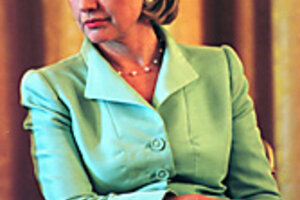 andy nelson – staff/file
To a casual reader, Hillary Clinton's newly released White House schedules may raise a pointed question: Why does she want to go back?
Sure, living at 1600 Pennsylvania Ave. has obvious perks, according to the details of the 11,000-plus pages made public so far. Queen Noor of Jordan occasionally drops by. There are lots of references to "Air Force One" and "motorcade."
But – with the notable exception of the Clinton administration's healthcare initiative – the schedules reveal little about any substantive work of Ms. Clinton's White House years. They are instead the record of the drudgery that comes with high public life – endless photo ops, hospital and school visits, and commemorations planned out to the minute.
The record notes, for instance, that on Monday, April 12, 1993, at 9:50 a.m., Hillary Clinton (and Bill) received a commemorative Easter egg from the chairman of the American Egg Board and representatives of the Arkansas Poultry Federation, "on behalf of the nation's egg producers."
This was followed by two different receptions and then, at 10:40, a stroll to the south lawn, and the annual White House Easter Egg Roll.
On May 13, between 3:00 and 3:50 p.m. in the White House East Room, Hillary Clinton held a Christmas card meeting.
---