Clinton's road to nomination gets steeper
With revote plans nixed in Florida and Michigan, pressure is on for an acceptable solution.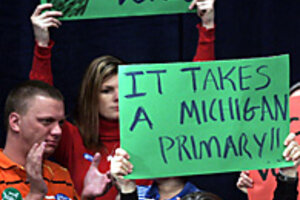 Rebecca cook/reuters
Hillary Rodham Clinton's path to the Democratic nomination has steepened, with Florida and Michigan giving up last week on new primaries and the Democratic Party refusing to count delegates from those states without new contests.
The party is now under intense pressure to forge a solution that backers of both Senator Clinton and Barack Obama see as fair. "The real danger is a 1968 convention for the Democrats, where people felt cheated," says Ronald Rapoport, a political scientist at the College of William and Mary in Williamsburg, Va., alluding to one of recent history's most divisive and damaging conventions.
Clinton's aides say she could make a credible case for the nomination even without a majority of pledged delegates and without revotes in Florida and Michigan. She would need a substantial victory in Pennsylvania on April 22 and enough votes in the 10 remaining contests to overtake Senator Obama in the popular vote, a tall order.
---