How voters may react to the Clintons' $109 million income
Few will begrudge the couple its wealth, experts say, unless business ties raise red flags.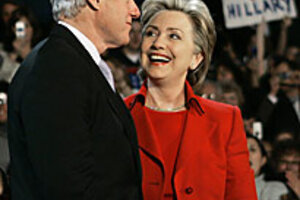 Elise Amendola/AP/FILE
Now that the Clintons have bared much of their financial life, in the form of tax returns going back to 2000, will voters view them any differently?
Probably not, unless further revelations about the former president's business dealings raise red flags, analysts say. There was never any doubt that the Clintons have become quite wealthy since leaving the White House in January 2001, starting with the bestselling books both Bill and Hillary have written. In addition, former President Clinton is active on the global lecture circuit, at times commanding well into six figures per speech, and has engaged in lucrative investment partnerships.
When the Clintons left the White House, they faced massive debts – reportedly, about $12 million – from legal fees incurred during various investigations, but they have long since paid them off.
Now, voters in Pennsylvania and in the other remaining primaries have new information to weigh as they decide between Senator Clinton and Barack Obama for the Democratic presidential nomination. In the past eight years, according to the returns released Friday afternoon, the Clintons earned $109 million, almost half of that ($51.9 million) from the former president's speeches. They paid $33.8 million, or 31 percent of their gross income, in taxes. They donated $10 million to charity, including to their own family foundation.
The irony for Senator Clinton is that it's the lower-income, working-class segment of the Democratic Party that has tended to support her, while the far less wealthy Senator Obama has attracted higher-income voters. But American voters often don't begrudge wealthy candidates their money; many aspire to wealth themselves.
---