At Petraeus-Crocker hearing, eyes on '08 field
Petraeus and Crocker shared the stage with presidential hopefuls, who all had much at stake.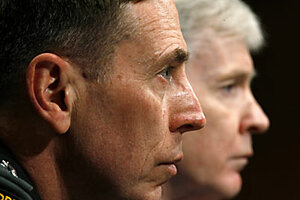 Kevin lamarque/reuters
For the three leading presidential contenders, the appearance of Gen. David Petraeus and Ambassador Ryan Crocker on Capitol Hill this week set up the first Iraq war debate of the general election season.
Sens. John McCain (R) of Arizona and Hillary Rodham Clinton (D) of New York rarely looked at each other during the Senate Armed Services panel hearing on Tuesday. Sen. Barack Obama (D) of Illinois, a member of the Foreign Relations Committee, wasn't even in the same room.
But the seven or so minutes each had for comments or questions were directed as much at their presidential rivals as to the four-star general and top diplomat across the witness table.
The venue gave all a chance to show that they have the gravitas and grasp of the issues to be commander in chief, as well as to clarify their own stances on the war.
---