In Pennsylvania, white male vote is key
White men are a critical group of voters for Democratic candidates in Tuesday's primary – and the most ambivalent.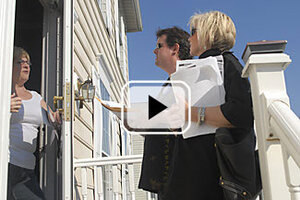 Mark Thomson
Travis Frantti knocks on the front door, ready to make his pitch for Hillary Rodham Clinton. It's the final weekend before Tuesday's presidential primary in Pennsylvania, and he and his mother are out canvassing in suburban Pittsburgh, a printout of persuadable Democrats and a stack of campaign literature in hand.
Joe Machi, their first "customer," is still undecided. "I'll just toss a coin," jokes the real estate investor, as Ann Frantti hands a Hillary pin to his young son. Then he gets serious: "I still want to hear more about the issues, rather than this peripheral stuff."
In a way, Mr. Machi represents the holy grail of the final push for votes in Pennsylvania: white male Democrats. As a group, they are nearly evenly divided between Senator Clinton and Sen. Barack Obama. And individually, white male Democrats express the most ambivalence about the two candidates.
A recent poll from Temple University in Philadelphia asked likely Democratic voters to rate the favorability of Clinton and Obama on a scale of 1 to 10, with 10 being most favorable. The contest was closest among white men who gave Clinton an average of 6.4 and Obama 6.9. When only voters over 30 are considered, the numbers get even tighter: 6.5 for Clinton and 6.7 for Obama.
---