Congress complicates war funding with new demands
Republicans and Democrats want to add measures that could lead to a Bush veto.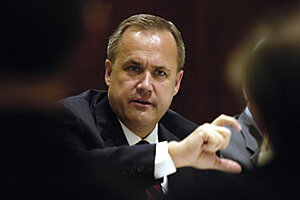 Andy Nelson – staff/File
Lawmakers on both sides of the aisle are signaling that the White House can expect a struggle over this year's $108 billion war-funding request.
As ever, the bill that funds the wars in Iraq and Afghanistan sets up a test of whether lawmakers can rally enough votes to force a change of course. So far, all efforts to mandate a timetable to end the war have failed.
But this year, the war supplemental is also one of the few spending bills likely to pass in the final months of the 110th Congress. That makes it a magnet for other spending priorities on Capitol Hill.
Democrats are pulling together a package of up to $30 billion to boost the economy. President Bush says he will veto any bill that includes funding that he did not request or a timetable for a US exit from Iraq.
"Part of what's complicating the bill this year is that members get frustrated," says Jim Nussle, director of the Office of Management and Budget. "They see a legislative train leaving the station and they say: I've got to get my priority onto this bill."
A top priority for many lawmakers is using the war-funding bill to leverage more investment at home, including extended unemployment insurance for some 7.8 million Americans out of work and more federal spending on roads, rail, bridges, water projects, and local law enforcement.
---