McCain fleshes out his economic plan
His challenge is to appeal both to the GOP's tax-cutting faithful and to independents and moderates.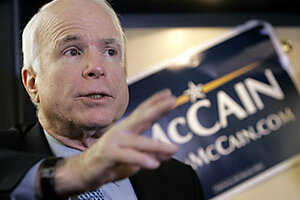 Mary Altaffer/AP
Presumptive GOP presidential nominee John McCain in recent weeks has put much time and effort into an attempt to bolster his credentials on a core issue of US politics: the domestic economy.
He's issued an economic plan more detailed than any he's talked about before. He's toured hardscrabble towns in an attempt to convey compassion for those worried about the future of their paychecks. He's used space provided him by the continuing Democratic slugfest to address an issue on which experts have long considered him to be weak.
It's a stab at political rebranding that may be long overdue, say some experts. But they add that it might be difficult for Senator McCain to craft an economic message that appeals both to the GOP's tax-cutting faithful and to the independents and moderates that the Arizona lawmaker needs to attract to win in November.
"McCain is trying to distance himself from Bush on the economy, but the eventual Democratic nominee will do everything they can to make him look like he's changed his first name to 'George,' " says Larry Sabato, director of the Center for Politics at the University of Virginia in Charlottesville.
If "McCainomics" can be described in a sentence, it might be this: traditional GOP tax-cutting, with a dash of populism sprinkled on top.
To begin with, McCain would make President Bush's tax cuts permanent, rather than let them expire in coming years, as current law calls for. Critics say this is something of a switch for a lawmaker who opposed the tax cuts as too expensive when they were proposed.
---