Hopes that the wells won't run dry in Vermont
The legislature has passed a bill that limits how much groundwater bottlers and other companies can draw.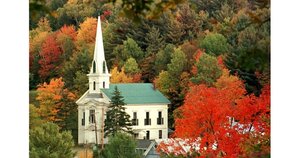 Toby Talbot/AP
With Lake Champlain, snowy peaks, and 40 inches of rain a year, the Green Mountain State isn't exactly parched. But don't tell that to Annette Smith.
Six years ago, a mining company pumped 2.7 million gallons of water from an underground well near her Danby, Vt., home. The local springs were so dry she had to spend more than $4,000 to dig a new well. When water eventually returned to the springs, the levels weren't what they once were, she says.
Such episodes have Vermonters so worried about unregulated water withdrawals that on Friday the state legislature passed a bill that establishes a water-permit requirement.
There's just one problem.
Several local bottled water companies and manufacturers worry that the new measure will boost costs and delay sales. While the measure has won praise from environmentalists, some analysts say it could violate the North American Free Trade Agreement (NAFTA) by unfairly restraining international trade.
"We're concerned that this going to add an undue cost to businesses currently in Vermont who want to expand operations," says William Driscoll, vice president of the Associated Industries of Vermont. "We're also worried about discouraging new businesses from coming to Vermont."
---