Wright brings race issue back to '08 race
Obama's former pastor launched a public-relations blitz.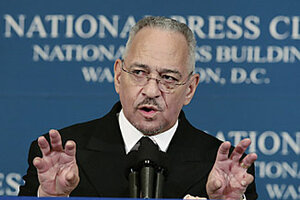 Larry Downing/Reuters
With his sweeping speech on race relations a month ago, Barack Obama sought to end nettlesome questions about his long association with a controversial Chicago pastor, the Rev. Jeremiah Wright Jr. But just as fresh doubts surface about Senator Obama's ability to win working-class white voters important in the general election, Mr. Wright is back – and unrepentant.
Without coordinating with the Obama campaign, Wright has launched a pugnacious public-relations blitz to defend his church and explain comments that critics have called racially inflammatory and unpatriotic.
In a talk in Washington Monday morning, Wright was by turns professorial, defiant, and flip, twice offering himself up as a candidate for vice president.
The controversy over some of his sermons "is not an attack on Jeremiah Wright," he said at the National Press Club, where he expressed contempt for the several hundred news professionals seated before him. "It is an attack on the black church."
The appearances – in a PBS interview Friday and in speeches in Detroit and Washington on Sunday and Monday – inject issues of race back into the nomination contest at an awkward time for Obama. The Illinois senator was already fending off new questions about his ability to win enough blue-collar white voters to close the protracted nomination fight with Sen. Hillary Rodham Clinton.
---