Blacks wrestle with Obama-Wright rift
Many understand, but some may doubt Obama's 'blackness.'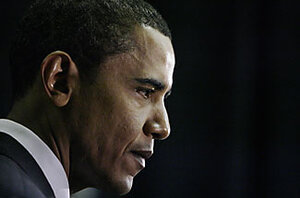 Jae C. Hong/AP
In disowning his former pastor Tuesday, a month after saying he could never do so, Sen. Barack Obama walked a very fine line: He had to renounce a prominent black preacher who had become a political problem without alienating African-American voters, a bedrock of his support, for whom churches are often a center of community life.
Senator Obama's break with the Rev. Jeremiah Wright Jr. – who officiated at his wedding and baptized his two daughters – could turn off some poorer and older, civil rights-era blacks who may already wonder about Obama's ability to identify with their lives, say experts in black politics and some black voters.
But younger and more affluent blacks say that whether or not they agree with Mr. Wright, they see the rupture as a political necessity for a man seeking to become the first African-American president.
"I felt like what he did today, he had to do," Timothy Perry, a project manager at Reliant Energy in Houston who is an Obama supporter, said Tuesday in a phone interview. "You have a limb that's rotting and you've got to cut it off."
But Michael Durrah, a third-shift security guard at a Washington hotel, says Obama has more explaining to do.
"Your pastor is your No. 1 man in the neighborhood," says Mr. Durrah, a Democrat who says neither Obama nor Sen. Hillary Rodham Clinton had inspired him enough to vote in the District of Columbia primary.
---