Behind logjam over economic remedies, a values divide in D.C.
Bush and Democrats in Congress disagree on how much onus to put on individuals vs. financial, energy industries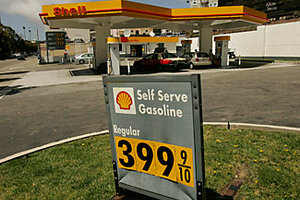 Robert Galbraith/Reuters
Even before President Bush launched a broadside at Congress this week, Democratic lawmakers were scrambling to find practical answers to rising gasoline and food prices and out-of-reach mortgage and tuition bills.
The president blames Congress for blocking proposals that he says would help. These include approving oil and gas exploration in the Arctic National Wildlife Refuge (ANWR), building new refinery capacity, modernizing the Federal Housing Administration, and giving the government temporary authority to buy student loans.
"I've repeatedly submitted proposals to help address these problems. Yet time after time Congress chose to block them," Mr. Bush said Tuesday at a Rose Garden press conference.
Democrats shot back that Bush – and a Republican majority – had six years to solve such problems and fell short. After Democrats took control of Congress in 2007, the president refused to negotiate with the new majority, they add.
But at the heart of the impasse is a deep values divide: Should Washington bail out people who made poor decisions on their homes? Will a short-term fix for high gasoline prices this summer encourage consumption and create greater problems in the long term? And how hard should Washington hit back at banks and energy producers, viewed by some lawmakers as the problem and by others as a key part of any solution?
"Until very recently, we heard the president say: Don't worry, be happy. Everything's going to be just fine. Now all of a sudden, he's realized the problems," said Sen. Charles Schumer (D) of New York at a Tuesday news briefing after Bush's remarks. "The problem is … that the president is just plain wrong on how to address the many challenges we face."
---