Has Obama slipped?
His lead in North Carolina is dwindling, but he's closing in on Senator Clinton in superdelegates.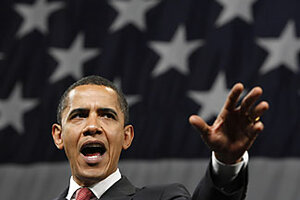 Jason Reed/Reuters
The primaries in Indiana and North Carolina Tuesday will answer one main question: How badly has Sen. Barack Obama stumbled?
The last few weeks have produced a drumbeat of trouble for the Democratic front-runner. A decisive Pennsylvania loss to Hillary Rodham Clinton, the dust-ups over his former pastor and remarks about "bitter" small-town voters – all appear to have damaged his standing in the polls, both nationally and in the states voting Tuesday.
Democratic voters now see him in a much closer nomination fight with Senator Clinton, according to recent polls. And while the Indiana race had always been tight, Senator Obama has watched his once- secure double-digit lead in North Carolina dip to three percentage points.
A dual victory Tuesday stands as his best chance to shut down the prolonged nomination fight, analysts say. But if he loses Indiana and if North Carolina is close, Clinton can continue to argue her candidacy to the only group numerous enough to save it: the nearly 800 elected officials and party leaders called superdelegates, some 274 of whom remain undecided.
Obama leads Clinton 1,744 to 1,608 in the race for the 2,025 delegates – pledged and super – required for the nomination, according to an Associated Press count on Monday.
---