McCain courts blue-collar Democrats
His lead strategist says if McCain were to get 20 percent of these voters he will win.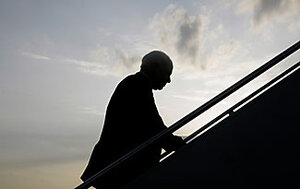 jeff chiu/ap
With the other party still waist-deep in its presidential nomination fight, John McCain, the presumptive GOP nominee, has been quietly courting the white working-class Democrats who have proved elusive for Barack Obama, his most likely rival in the fall.
In the two weeks since Senator Obama's loss in Pennsylvania, Senator McCain has visited the struggling steel town of Youngstown, Ohio, to promote programs to retrain workers. He has gone to Allentown, Pa., to push a gas-tax holiday and argue that the Democrats' healthcare plans gave too much power to the government. And in Appalachian Kentucky, he has pledged to bring new jobs and technology to rural America.
All are the sort of places where Democrats have favored Obama's rival, Hillary Rodham Clinton. If she loses the Democratic nomination, McCain has every intention of poaching some of her supporters for what is shaping up as a difficult fight against Obama in November.
---