Clinton now closer to endgame
Her best hope is for something to occur that makes Obama appear unelectable.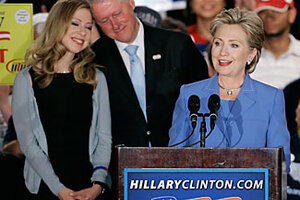 darron cummings/ap
How the loser loses, it has been said, will go a long way to determining whether the winner of the Democratic presidential nomination can win in November.
Now, all eyes are on Hillary Rodham Clinton, whose path to the nomination – already steep heading into Tuesday's primaries – got significantly steeper after losing North Carolina to Barack Obama by almost 15 points and winning Indiana by less than two. She has few options, with funds scarce and the delegate math virtually impossible. On Wednesday, Clinton aides revealed that she had lent her campaign $6.4 million over the past month.
Senator Clinton's last best hope, analysts say, is for some factor to intervene that makes Senator Obama appear unelectable to superdelegates – Democratic elders and elected officials – who will decide the outcome.
"She's hoping for lightning to strike," says Mark Mellman, a Democratic pollster who is not working for either campaign.
Clinton has promised to compete in the remaining six primaries, all relatively small states, plus Puerto Rico. But if the largely conciliatory tone in her speech Tuesday night is any guide, she may well have already turned a corner in her approach to the race.
---